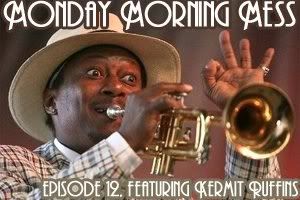 The Monday Morning Mess returns from its longer-than-expected break with a longer-than-usual episode featuring
Kermit Ruffins
, a New Orleans trumpet player whose music Ye Olde Podcaster first encountered on HBO's New Orleans-based drama
Treme'.
Here's what you'll hear today (
right-click to download MP3 or to stream it in a new tab or window
):
"Panama"
"Hey Naa"
"Good Morning New Orleans"
"I Got a Treme' Woman"
(Total play time: 18:55)
All the songs in today's episode come via the
IODA Promonet
and may be downloaded for free below as long as the promotions remain in effect. You'll also see links to buy his albums and other things, and your commissions would be much appreciated by this poor graduate student.
Source albums:
Kermit Ruffins:
Happy Talk
(
Amazon
|
iTunes
)
Kermit Ruffins:
Livin' a Treme' Life
(
Amazon
|
iTunes
)
Various Artists:
SIGGRAPH 2009 New Orleans Music Sampler
(
Amazon
|
iTunes
)