A mixed bag today; we start out with blues and jazz, amp up to some rock, then course-correct halfway through to take on a more chilled atmosphere before ending where we began.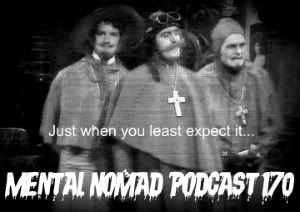 The
Todd Koal
track in today's episode is available as a free download; the artist will donate $1 per download (up to $500) for relief efforts in Japan. And the Anji Bee/LoveSpirals tracks in today's show are all part of the
free sampler
marking five years of
The Chillcast
.
Here's what you'll hear today (
right-click to download or to stream in a new tab or window
):
(Total play time: 58:07)
The tracks by Hawkeye Herman, Crystal Stilts, and Preservation Hall Jazz Band were all obtained through the
IODA Promonet
and may be downloaded for free below as long as their promotions last. Heather Edwards' music comes to us courtesy of
Ariel Publicity
, and the Secret Archives of the Vatican tracks were picked up at
Music Alley
.
That said, I'd also encourage you to buy the full albums (as available) here, with your commissions helping to support a poor graduate student:
Crystal Stilts:
In Love With Oblivion
(
Amazon
|
iTunes
)
Crystal Stilts: "Shake the Shackles" single (
Amazon
|
iTunes
)
Hawkeye Herman:
It's All Blues to Me
(
Amazon
|
iTunes
)
Heather Edwards:
Eclectic Energy
(
Amazon
|
iTunes
)
Heather Edwards:
To Be Continued...
(
Amazon
|
iTunes
)
Lovespirals:
Motherless Child
EP (
Amazon
|
iTunes
)
Natalie Walker:
Urban Angel
(
Amazon
|
iTunes
)
Preservation Hall Jazz Band:
New Orleans' Billie and De De and Their Preservation Hall Jazz Band
(
Amazon
|
iTunes
)
Todd Koal:
Spirit Is Flow
EP (
Amazon
|
iTunes
)