A day late, just keeping to schedule, here's an assortment of music offered up by
Ariel Publicity
clients in memorial of the lives lost on Sept. 11, 2001.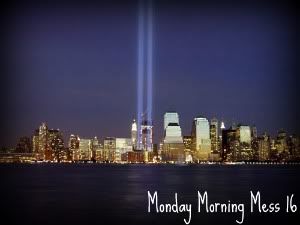 Here's what you'll hear today (
right-click to download MP3 or to stream it in a new tab or window
):
Eric Garcia: "People Get Ready"
Matt Andersen: "Going Home"
Parents with Angst: "Light a Candle"
Jenn Bostic: "Jealous of the Angels"
Eric Garcia: "Peace from Within"
(Total play time: 19:18)
The Parents With Angst track isn't for sale, as far as I can see, though that may be intentional given its history as described at CyberPR:
We were in Manhattan on September 11th. We wrote "Light a Candle" on Sept. 11th after watching hundreds of people walking up Broadway with candles. We then went down to the World Trade Center and gave the song away for free to all the fireman and policemen we could find and went to firehouses.
Source Albums:
"Jealous of the Angels" single by Jenn Bostic (
Amazon
|
iTunes
)
Piggyback
by Matt Andersen and Mike Stevens (
Amazon
|
iTunes
)
Songs for Shifra
by Eric Garcia (
Amazon
|
iTunes
)
Also of Interest:
Keep Lookin' for Love
by Jenn Bostic (
Amazon
|
iTunes
)
No More Time
by Parents with Angst (
Amazon
|
iTunes
)