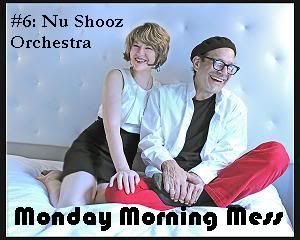 New to the show -- and new to my ears, I think -- the duo called
Nu Shooz
have been playing funky jazz (with Tarzan and '60s spy movies listed as influences) for more than 20 years. "I Can't Wait" is their signature hit, a single that hit #3 on the Billboard charts, and we'll hear their reinterpretation of it in today's show.
Here's what you'll hear today (
right-click to download MP3 or to stream in a new tab or window
):
"The Return of Point of No Return"
"Right Before My Eyes"
"I Can't Wait: 20th Anniversary Edition"
(Total play time: 14:40)
All the music in today's show comes from the
Nu Shooz Orchestra
album
Pandora's Box
(
Amazon
|
iTunes
) and was provided by the good folks at
Ariel Publicity
.
Other works:
"I Can't Wait (Powermix)" single (
Amazon
|
iTunes
) *
I Can't Wait Unplugged
(
Amazon
|
iTunes
) *
Told U So
(
Amazon
|
iTunes
) *
Tha's Right
(
Amazon
|
iTunes
) *
Poolside
(
Amazon
| iTunes)