Here's another revised celebrity crush entry, because Ye Olde Podcaster happened to notice the pass for the upcoming season of
The Office
is now in the iTunes store.
Name:
Jenna Fischer
Hometown:
Born in Fort Wayne, Ind., but raised in St. Louis, according to
her Wikipedia entry
Best Known For:
She's best known for her role as Pam, the secretary-turned-saleswoman on NBC's sitcom
The Office
(inspired by the British show of the same name, except it's run much longer than the original at this point). She also wrote, directed and starred (along with her then-husband, screenwriter
James Gunn
) in an indie comedy called
Lollilove
-- where she played an actress named Jenna Fischer who was married to a screenwriter named James Gunn.
Additionally, she's played love interests in the comedies
Blades of Glory
and
Walk Hard: The Dewey Cox Story
.
Humble Beginnings:
She had a blink-and-you'll-miss-it cameo in
The 40-Year Old Virgin
, which of course starred her boss on
The Office,
Steve Carrell. But her most memorable pre-
Office
gig was likely on
Six Feet Under
-- playing a woman who briefly dated Freddie Rodriguez's character, Franco, while he and his wife were separated. (It ... didn't end well. But it did end amusingly. Unless you were Franco.)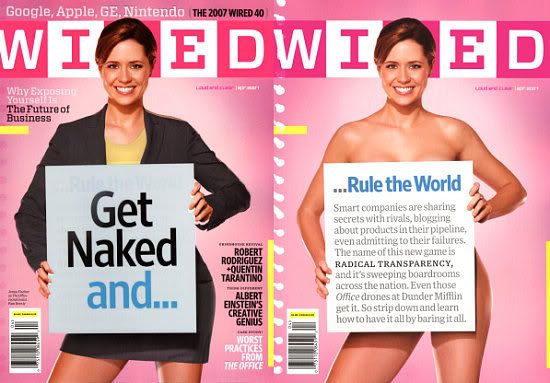 Career Opportunities:
At the time Ye Olde Podcaster was in school, he would have advised a prospective actor to have a fall-back career in mind. Fischer graduated from
Truman State University
with a bachelor's in theatre, a minor in journalism (after having enrolled as a pre-law student, according to Wikipedia). Ye Olde Podcaster would have asked, had they been classmates, "Don't you think that should maybe be the other way around?"
(This is assuming Ye Olde Podcaster were able to open his mouth and produce sounds around her, which is not a given. I mean, look at her.)
Needless to say, it's worked out well for her, while Ye Olde Podcaster barely makes it from payday to payday. So not only is she gorgeous, she's much smarter than he is -- as risky as acting is, it beats the hell out of trying to be a journalist.
Obligatory Edgy Stuff:
She got naked for the cover of
Wired
magazine (albeit behind a giant whiteboard) and showed her perfect, perfect butt in a
Jane
photoshoot. ... Urm, what was I talking about again?
She also wrote a risque piece on
10 Things You Don't Know About Women
for
Esquire
once, which then
got read by cast and crew from The Office and put on YouTube
.
Keeping It Fake:
Once upon a time, there was a social networking site called MySpace. Actually, it's still around, but Ye Olde Podcaster barely uses it anymore.
Point is, Fischer is -- or at least used to be -- an active MySpace user, maintaining
a profile for her character from The Office, Pam Beesley (now Halpert)
. Though over time, Pam started posting things that made it seem she thought she was an actress named Jenna Fischer who was on a TV comedy. (Very confusing.)
Why Ye Olde Podcaster Likes Her:
Cute can be sexy, and Fischer scores high on both charts. Plus, she's really gifted as a comic actress, with a perfect sense of timing and delivery. Look up "adorable" in the dictionary, and you'll find her.
TV credits:
The Office,
season 7 (
Amazon
|
iTunes
) *
The Office,
season 6 (
Amazon
|
iTunes
) *
The Office,
season 5 (
Amazon
|
iTunes
) *
The Office,
season 4 (
Amazon
|
iTunes
) *
The Office,
season 3 (
Amazon
|
iTunes
) *
The Office,
season 2 (
Amazon
|
iTunes
) *
The Office,
season 1 (
Amazon
|
iTunes
) *
Six Feet Under,
season 5 (
Amazon
|
iTunes
) *
That 70s Show,
season 7: "Don't Lie to Me" (
Amazon
| iTunes) *
Cold Case,
season 2: "Factory Girls" (Amazon | iTunes) *
Miss Match,
season 1: "Kate in Ex-tasy" (Amazon | iTunes) *
Strong Medicine,
season 4: "Maternal Mirrors" (Amazon | iTunes) *
What I Like About You,
season 1: "Copy That" (
Amazon
|
iTunes
) *
Off Centre,
season 1: "The Backup" (Amazon | iTunes) *
Undeclared,
season 1 (
Amazon
| iTunes) *
Spin City,
season 5: "A Shot in the Dark, Part 2" (
Amazon
| iTunes)
Film credits:
Hall Pass
(Amazon | iTunes) *
A Little Help
(Amazon | iTunes) *
Solitary Man
(
Amazon
| iTunes) *
Official Rejection
(
Amazon
| iTunes) *
The Promotion
(
Amazon
| iTunes) *
Walk Hard: The Dewey Cox Story
(
Amazon
|
iTunes
) *
The Brothers Solomon
(
Amazon
|
iTunes
) *
Blades of Glory
(
Amazon
|
iTunes
) *
Slither
(
Amazon
|
iTunes
) *
The 40-Year-Old Virgin
(Amazon |
iTunes
) *
Lucky 13
(
Amazon
| iTunes) *
Lollilove
(
Amazon
|
iTunes
) *
The Women
(Amazon | iTunes) *
Employee of the Month
(
Amazon
|
iTunes
) *
Melvin Goes to Dinner
(
Amazon
|
iTunes
) *
Rubbing Charlie
(Amazon | iTunes) *
Les Superficiales
(Amazon | iTunes) *
Picking Up Chicks with Harland Williams
(Amazon | iTunes) *
The Specials
(
Amazon
|
iTunes
) *
Born Champion
(Amazon | iTunes) *
Channel 493
(Amazon | iTunes)