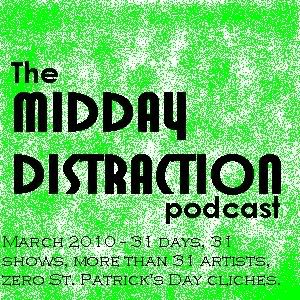 Blues with a sense of humor -- when done right, it's a powerful combination. Here's a
Magnatune
artist who straddles that line with flair.
Here's what you'll hear today (
right-click to download MP3 or to open in a new tab or window)
:
Burnshee Thornside: "Bad Bad Luck"
Burnshee Thornside: "Make It Go Away"
Burnshee Thornside: "Wish I Could Write Lyrics Like Bob Dylan"
(Total play time: 11:58)
Today is
World Storytelling Day
and
International Francophonie Day
.
The Roman poet
Ovid
was born on this day in the year 43 B.C.E. Having escaped his exile on the island of Elba, Napoleon led an army of some 340,000 troops and volunteers into Paris this day in 1815, starting his
Hundred Days
rule. Norwegian writer
Henrik Ibsen
was born this day in 1828. Abolitionist Harriet Beecher Stowe's novel
"Uncle Tom's Cabin"
was published this day in 1852. German-born psychologist
Fredric Wertham
, whose cockamamie theories nearly destroyed the American comic book industry, was born this day in 1895. American bandleader, actor and atheist
Ozzie Nelson
was born this day in 1906. Albert Einstein published his
general theory of relativity
(arguing that it's safe to assume everyone has at least one relative they're ashamed to claim) this day in 1916.* American film director
Carl Reiner
was born this day in 1922. Jamaican reggae artist
Lee "Scratch" Perry
was born this day in 1936. American actor
John de Lancie
was born this day in 1948. Blues singer and pianist
Marcia Ball
was born this day in 1949. Film director
Spike Lee
was born this day in 1957. Belgian singer
Natacha Atlas
was born this day in 1964.
America's "Horse With No Name"
was the No. 1 single in the U.S. this day in 1972. British actress and slam-dunk future celebrity crush profilee
Freema Agyeman
was born this day in 1979.
Libby Riddles
became the first woman to win the 1,135-mile
Iditarod Trail Sled Dog Race
this day in 1985. The U.S. Food and Drug Administration approved the
anti-AIDS drug AZT
on this day in 1987.
Mike + the Mechanics' "The Living Years"
communicated an important but buzz-killing message as it sat atop the U.S. singles chart this day in 1989. American humorist
Lewis Grizzard
died this day in 1994.
Legoland California
opened in Carlsbad this day in 1999, the only park of its kind outside Europe. And the United States and three other nations started an
illegal invasion of Iraq
this day in 2003.
* Please do not rely on this blog as your sole source for historical information.