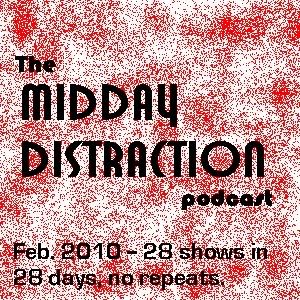 We're mixing up progressive rock with world music elements today, courtesy of
Magnatune
(they are not evil).
Here's what you'll hear today (
right-click to download MP3 or to open in a new tab or window
):
(Total play time: 10:32)
Today is the holiday
Chaoflux
in the Discordian religion. Revolutionary leader
Vasil Levski
's hanging is commemorated in Bulgaria on this day.
Mathematician and astronomer
Nicolaus Copernicus
was born this day in 1473. Peruvian volcano
Huaynaputina
exploded this day in 1600, the most violent eruption in the recorded history of South America. Former
Vice President Aaron Burr
was arrested on charges of treason this day in 1807. Thomas Edison
patented the phonograph
this day in 1878. American author
Carson McCullers
was born this day in 1917. Screen tough guy
Lee Marvin
was born this day in 1924. Singer
Smokey Robinson
was born this day in 1940. President Franklin D. Roosevelt was generally a great president, but his biggest screw-up came this day in 1942, when he signed the infamous
executive order 9066,
letting the American military place Japanese Americans in internment camps; President Gerald Ford
rescinded the act
this day in 1976 with Proclamation 4417. American activist
Karen Silkwood
was born this day in 1946. Comic book writer
William Messner-Loebs
was born this day in 1949. Novelist
Amy Tan
was born this day in 1952. Georgia approved America's
first literature censorship board
this day in 1953. British actor
Ray Winstone
was born this day in 1957.
Betty Friedan's The Feminine Mystique
was published this day in 1963; American horror-slash-porn novelist
Laurell K. Hamilton
and English singer
Seal
were born the same day. Puerto Rican actor
Benicio del Toro
was born this day in 1967.
Roberta Flack's "Killing Me Softly With His Song"
topped the U.S. singles chart this day in 1973. American rapper
Immortal Technique
was born this day in 1978. Original AC/DC singer
Bon Scott
died this day in 1980. Grand Ole Opry fixture
Grandpa Jones
died this day in 1998. The
Oklahoma City National Memorial
bombing museum was dedicated this day in 2001. Nazi hunter
Simon Wiesenthal
received an honorary knighthood this day in 2004 for a "lifetime of service to humanity."