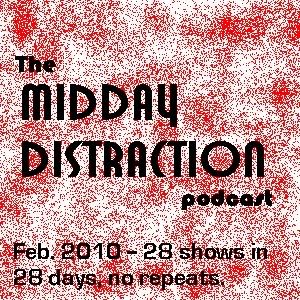 Today's episode features club music courtesy of
Ariel Publicity
.
Here's what you'll hear today (
right-click to download MP3 or to open in a new tab or window
):
Farrad: "Pick Your Face Up Off the Floor"
Farrad: "Keep Your Head Up"
(Total play time: 9:57)
Your purchase of his music or other things listed below -- or a couple of dollars dropped into the Paypal "tip jar" at left -- would be much appreciated.
Today is
Independence Day in The Gambia
. According to Hindu cosmology, the
Kali Yuga
started on this day in 3102 B.C.E. American environmentalist
Johnny Appleseed
died this day in 1845. The
American Party (aka the "Know-Nothings")
met in Philadelphia this day in 1856 to nominate its first presidential candidate, former President
Millard Fillmore
-- so no wonder the Republican-leaning comic strip is called Mallard Fillmore, because today's Republicans admire ignorance so much. The Union forces of Maj. Gen. William Tecumseh Sherman
burned the South Carolina State House
on this day in 1865. Greek author
Nikos Kazantzakis
was born this day in 1883. Mark Twain's novel
Adventures of Huckleberry Finn
was first published this day in 1884. American film tough guy
Jack Palance
was born this day in 1919. Nobel-winning author
Toni Morrison
was born this day in 1931. Czech film director
Miloš Forman
was born this day in 1932. Japanese-born alleged singer
Yoko Ono
was born this day in 1933. American blues singer
Irma Thomas
was born this day in 1941. Nazis arrested members of the
White Rose movement
this day in 1943. Filmmaker
John Hughes
and actress
Cybill Shepherd
were both born this day in 1950. Rapper and producer
Dr. Dre
was born this day in 1965. Actress
Molly Ringwald
-- star of some of John Hughes' earliest films -- was born this day in 1968. Russian tennis player
Yevgeny Kafelnikov
, whose name became a plot point on
Sports Night,
was born this day in 1974. Russian-American singer-songwriter
Regina Spektor
was born this day in 1980. And two
white separatists were arrested in Nevada
this day in 1998 on charges of plotting a biological attack on New York City's subway system -- yet Republicans bitched earlier this year when the White House released an intelligence report about the threat of right-wing extremists.