Today's show is longer than usual, featuring five artists drawn from various sources.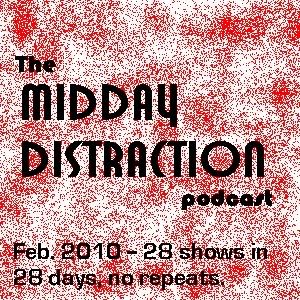 Here's what you'll hear today (
right-click to download MP3 or to open in a new tab or window
):
(Total play time: 23:38)
Tracks 1, 3 and 4 come courtesy of the
IODA Promonet
and may be downloaded below for free as long as their promotions last. Track 2 comes via
Music Alley
, and track 5 comes via
Ariel Publicity
.
Your commissions from Amazon purchases will help keep my programs coming your way after I lose my job in April. Please consider buying something or donating through the Paypal button at left.
Today is
Valentine's Day
or
Singles Awareness Day
or the
Mid-February Holiday That Shall Not Be Named
, take your pick.
Native Hawaiians killed explorer
James Cook
this day in 1779. U.S. Chief Justice John Marshall declared this day in 1803 that
any act of Congress that conflicted with the Constitution would thereby be void
. Escaped slave turned abolitionist
Frederick Douglass
was born this day in 1818.
Joshua A. Norton, the first and only Emperor of the United States (and Protector of Mexico)
, was born this day in 1819.
President James K. Polk
was the first serving president to be photographed; that happened this day in 1849. American Civil War hero
William Tecumseh Sherman
died this day in 1891. Comic actor
Jack Benny
was born this day in 1894. Congress approved the use of
voting machines
in federal elections this day in 1899. Labor organizer
Jimmy Hoffa
was born this day in 1913. Actor
Edward Platt
(of
Get Smart
fame) was born this day in 1916. The
League of Women Voters
was established in Chicago this day in 1920. International Business Machines
(IBM) was founded
this day in 1924. Seven people, six of them gangsters opposing Al Capone's gang, were murdered in Chicago this day in 1929 in the
St. Valentine's Day Massacre
. Actress
Florence Henderson
was born this day in 1934.
*pausing to take a breath*
Glenn Miller's "In the Mood"
topped the U.S. singles chart this day in 1940. The allied
bombing of Dresden
(in Germany) began this day in 1945; Prague (in the modern-day Czech Republic) was also bombed by accident.
ENIAC
, the first general-purpose electric computing thingie, was unveiled this day in 1946; American dancer and actor
Gregory Hines
was born the same day. Doomed folk singer
Tim Buckley
was born this day in 1947. American soprano
Renée Fleming
was born this day in 1959. First lady
Jacqueline Kennedy
took TV viewers on a tour of the White House this day in 1962. Canadian actor
Enrico Colantoni
(of
Veronica Mars
and
Flashpoint,
among others) was born this day in 1963. TV personality
Jules Asner
was born this day in 1968. British comedian and actor
Simon Pegg
was born this day in 1970. English writer
P.G. Wodehouse
died this day in 1975. Forty-eight people died in the
Stardust nightclub fire
in Dublin this day in 1981 (one of many reasons Ye Olde Podcaster avoids nightclubs).
"Careless Whisper" by Wham! featuring George Michael
was the top single in the U.S. on this day in 1985. Iran's supreme religious leader issued a fatwa this day in 1989,
encouraging Muslims to kill Salman Rushdie
, author of
The Satanic Verses
(link goes to Amazon to buy the book -- that's how you fight religious fanatics). The first of the 24
Global Positioning System
satellites was placed into orbit this day in 1989.
*hey, look, it's the finish line!*
On this day in 1998, self-proclaimed Christian and
terrorist Eric Rudolph
-- no better a person than any Islamist radical -- was named as a suspect in an Alabama abortion clinic bombing.
Dolly
, the sheep that was the first known cloned mammal, died this day in 2003.
Betsyann Faiella
"(Love Is) The Tender Trap"
(mp3)
from "Can I Be Frank"
(LML Music)
Buy at
iTunes Music Store
Buy at
eMusic
Buy at
Rhapsody
Buy at
Napster
Stream from
Rhapsody
More On This Album
Los Lonely Boys
"I Don't Wanna Lose Your Love"
(mp3)
from "Live At Blue Cat Blues - Dallas Texas"
(Blue Cat Blues Records)
Buy at
iTunes Music Store
Buy at
eMusic
Buy at
Rhapsody
Buy at
Napster
Stream from
Rhapsody
More On This Album
Dena DeRose
"You Don't Know What Love Is"
(mp3)
from "Another World"
(Sharp Nine Records)
Buy at
iTunes Music Store
Buy at
eMusic
Buy at
Napster
Buy at
Rhapsody
Stream from
Rhapsody
More On This Album