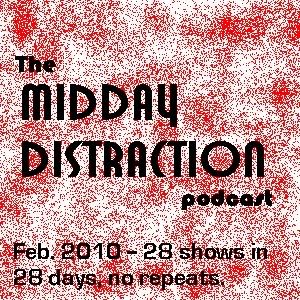 Today's episode features an Arab Egyptian singer, actress and songwriter who lived from about 1900 to 1975.
Here's what you'll hear today (
right-click to download MP3 or to open in a new tab or window
):
(Total play time: 12:54)
Learn more about the artist
at her Wikipedia entry
. The music in today's show comes courtesy of the
IODA Promonet
and may be downloaded below for free as long as the promotions last.
Today is celebrated as
Lincoln's Birthday
,
Darwin Day
and
National Freedom to Marry Day
in the United States, as
Union Day
in Burma, plus
Red Hand Day
internationally (to draw attention to the plight of child soldiers).
Explorer
Vasco da Gama
set sail out of Portugal on this day in 1502 for his second voyage to India. The city of
Santiago, Chile,
was founded by Pedro de Valdivia on this day in 1541. American patriot and atheist-in-foxhole
Ethan Allen
died this day in 1789. German philosopher
Immanuel Kant
died this day in 1804. English naturalist
Charles Darwin
and American President
Abraham Lincoln
were both born this day in 1809. Europe's oldest working opera house, the
Teatro di San Carlo, was destroyed by fire
this day in 1816. Ecuador annexed the
Galápagos Islands
this day in 1832.
Michigan State University
was founded this day in 1855.
Women received the vote in Utah
Territory this day in 1870.
North America's first artificial ice rink
opened at Gilmore's Park in New York City this day in 1879. The
NAACP
was formed this day in 1909. The
first stone of the Lincoln Memorial
was laid this day in 1914 in Washington, D.C. Canadian actor
Lorne Greene
was born this day in 1915. Children's author
Judy Blume
was born this day in 1938. Keyboardist
Ray Manzarek of The Doors
was born this day in 1939.
*catches breath*
Canadian actor
Michael Ironside
was born this day in 1950. Actor and once red-hot talk show host
Arsenio Hall
-- now in the Where Are They Now? Hall of Fame -- was born this day in 1955. Australian musician
Grant McLennan
(best known for his work with The Go-Betweens, though he's appeared on the Mental Nomad Podcast with the group Jack Frost) was born this day in 1958. American singer
Chynna Phillips
and
Into the Wild
biography subject
Christopher McCandless
were both born this day in 1968. Film writer and director
Darren Aronofsky
was born this day in 1969.
Barenaked Ladies bassist Jim Creeggan
and comic book writer-artist
Judd Winick
were both born this day in 1970. Canadian voice actress
Tara Strong
-- who's
gorgeous enough
to be in front of cameras -- was born this day in 1973. American actor
Sal Mineo
died on this day in 1976. Australian actor
Jesse Spencer
(of
House
fame) was born this day in 1979. Celebrity crush
Sarah Lancaster
and actress
Christina Ricci
were both born this day in 1980. The U.S. Senate
acquitted President Bill Clinton
this day in 1999 after his bullshit impeachment trial over lying in response to questions that never should have been asked. Musician
Screamin' Jay Hawkins
and cartoonist
Charles Schulz
both died this day in 2000 -- the latter dying on the evening before his final
Peanuts
comic strip (a Sunday edition) saw print.
*must. finish. list.*
City officials in San Francisco started
issuing marriage licenses to same-sex couples
this day in 2004 under instructions from Mayor Gavin Newsom. And a plane crash on this day in 2009 killed both
Alison Des Forges
(an American expert on the Rwanda genocide) and
Beverly Eckert
, a co-chair of the 9/11 Family Steering Committee.
Oum Kalthoum
"Kont Khale"
(mp3)
from "Kont Khale"
(Jasmine Music)
Buy at
iTunes Music Store
Buy at
Rhapsody
Buy at
Napster
Stream from
Rhapsody
More On This Album
Oum Kalthoum
"Ala Baladi El Mahoub"
(mp3)
from "The Diva of the Arab World"
(Jasmine Music)
Buy at
iTunes Music Store
Buy at
Napster
Buy at
Rhapsody
Stream from
Rhapsody
More On This Album