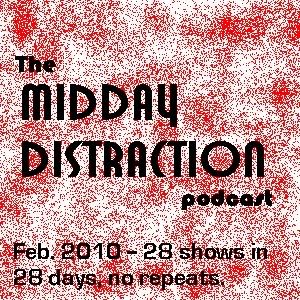 Today's episode features more music from the artist who's previously appeared on the Mental Nomad Podcast under the monikers Ace Noface and Sufirumi.
Here's what you'll hear today (
right-click to download MP3 or to open in a new tab or window
):
(Total play time: 11:54)
The music in today's show comes courtesy of either
Ariel Publicity
or
Music Alley
-- and again, I'll urge you to support
The ALS Association
.
Today is
Constitution Day in Mexico
and
Kashmir Day in Pakistan
. Baptist theologian
Roger Williams
emigrated to Boston on this day in 1631 -- having left religious persecution in England, he was a staunch proponent of church-state separation, a marked contrast to too many Baptists today. American outlaw
Belle Starr
was born this day in 1848. Politician
Adlai Stevenson
was born this day in 1900. Author
William S. Burroughs
was born this day in 1914.
The Manliest Damn Thing You'll Read All Day:
Stephen W. Thompson shot down a German airplane this day in 1918, the
first aerial victory by the U.S. military
. Actor
Red Buttons
was born this day in 1919. Baseball player
Hank Aaron
was born this day in 1934. Swiss artist
H.R. Giger
was born this day in 1940. American TV producer and novelist
Stephen J. Cannell
was born this day in 1941. Film director
Michael Mann
was born this day in 1943. Comic
Tim Meadows
was born this day in 1961. Actress
Jennifer Jason Leigh
was born this day in 1962. Actress
Laura Linney
and rock bassist
Duff McKagan
(of Guns 'n Roses and Velvet Revolver) were both born this day in 1964. A former Ku Klux Klansman whose name isn't worthy of print was convicted this day in 1994 for the
1963 murder of civil rights leader Medgar Evers
. Celebrity crush
Nora Zehetner
(currently seen on
Grey's Anatomy
) was born this day in 1981. And the Indian guru and Transcendental Meditation founder
Maharishi Mahesh Yogi
died this day in 2008.