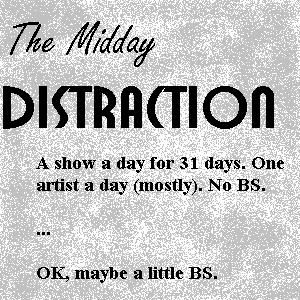 Today's featured artist brings us some electronic sounds to keep your blood flowing on a cold day.
Note:
Reposted Jan. 23 to address audio problems.
Here's what you'll hear today (
right-click to download MP3 or to open in a new tab or window
):
(Total play time: 10:29)
Both tracks come courtesy of the
IODA Promonet
and may be downloaded below for as long as his promotion remains in effect.
Today's episode also features the "today in history" segment, including births, deaths and hit songs on this date. Learn about the feud over direct current vs. alternating current, mentioned in today's episode, and how it led Thomas Edison to electrocute an elephant named Topsy in
HowStuffWorks' article on how electricity works
.
You can pick up some items related to those listings in the Amazon carousel at right and hopefully help defray a few cents of the hosting fees in the process.
Julian Shah-Tayler
"Wetter"
(mp3)
from "Un Ange Passe"
(Impossible Things)
Buy at
iTunes Music Store
More On This Album
Julian Shah-Tayler
"Communication"
(mp3)
from "Un Ange Passe"
(Impossible Things)
Buy at
iTunes Music Store
More On This Album