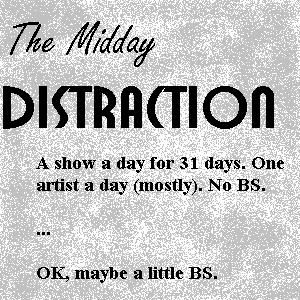 Today is
Data Privacy Day
. Our soundtrack is provided by Theodore Roosevelt "Hound Dog" Taylor (1915-1975), a Mississippi blues-rock guitarist
born with six fingers on each hand
.
Here's what you'll hear today (
right-click to download MP3 or open in a new tab or window
):
Hound Dog Taylor: "Take Five"
Hound Dog Taylor: "Give Me Back My Wig"
Hound Dog Taylor: "Gonna Send You Back to Georgia"
(Total play time: 13:25)
The music in today's show comes courtesy of
Music Alley
. Your purchase of the music and history-related items in the carousel below is much appreciated -- I need commissions, badly.
Roman Emperor
Charlemagne
died this day in 814.
Saint Thomas Aquinas
was born this day in 1225. The
death of England's Henry VIII
on this day in 1547 resulted in his 9-year-old son
Edward VI
being crowned as the nation's first Protestant king.
Horace Walpole coined the term "serendipity"
in a letter to Horace Mann written this day in 1754.
Pride and Prejudice
was first published in the UK this day in 1813. Robert Stroud, better known as
the Birdman of Alcatraz,
was born this day in 1890. A $10 million endowment from industrialist Andrew Carnegie was used to establish
The Carnegie Institution
this day in 1902. Painter
Jackson Pollock
was born this day in 1912. The US Coast Guard was founded this day in 1915.
Louis D. Brandeis
was appointed this day in 1916 as the first Jewish justice of the US Supreme Court.
Iceland legalized therapeutic abortion
this day in 1935, the first Western nation to do so. Actor
Alan Alda
was born this day in 1936. Irish writer and Nobel laureate
William Butler Yeats
died this day in 1939.
The Lego Co.
patented its brick design this day in 1958; the toy blocks made then are compatible with today's toys from the company. Filmmaker
Frank Darabont
and liberal talk radio host
Randi Rhodes
were both born this day in 1959. Writer
Zora Neale Hurston
died this day in 1960.
The Beatles' "I Want to Hold Your Hand
was No. 1 in the US this day in 1964. Canadian musician
Sarah McLachlan
was born this day in 1968.
Cold Case
co-star
Kathryn Morris
was born this day in 1969, when
Tommy James & the Shondells' "Crimson & Clover"
was topping the singles chart. Soul singer
Anthony Hamilton
was born this day in 1971. The
Ohio Players' "Love Rollercoaster"
was No. 1 on the US singles chart this day in 1976. Actor
Elijah Wood
was born this day in 1981. The
Space Shuttle Challenger
exploded shortly after liftoff this day in 1986, killing its crew of seven astronauts. And Superman co-creator
Jerry Siegel
died this day in 1996.