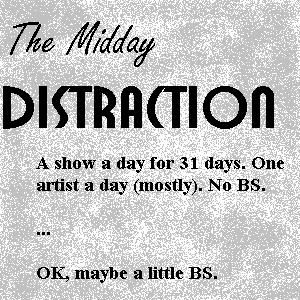 ... All but about two episodes in this Midday Distraction series were re-posted overnight to scrap the spoken bits entirely and fix files that were terminating prematurely due to a flaw in the several-years-old file I was using to create them. I've bought a new piece of software for the PC to create these.
Here's what you'll hear today (
right-click to download MP3 file or open in a new tab or window
):
(Total play time: 7:49)
I really, really hope you'll take time to look at the ads at right -- containing some of Ms. Lavette's music and other items related to this day in history -- and maybe pick up something if it catches your eye. I may have to buy a new recorder to continue doing any shows that involve talking, and $40 for a podcast program wasn't an expense I was planning on, either.
The awkwardly titled
The Power of Sympathy: or, the Triumph of Nature Founded in Truth
--
the first American novel
-- was printed in Boston on this day in 1789. France's
Louis XVI was executed aat the guillotine
this day in 1793.
ACLU founder Roger Baldwin
was born this day in 1884.
Kiwanis International was founded
in Detroit this day in 1915.
Maj. Richard D. Winters of the "Band of Brothers"
was born this day in 1918.
"Al Alone" by Al Jolson
was No. 1 this day in 1925.
English comedian Benny Hill
was born this day in 1924, and
folk singer Richie Havens
was born this day in 1941.
English writer George Orwell
died this day in 1950.
Actress Geena Davis
was born this day in 1956, and
DJ Jam Master Jay of Run-D.M.C.
was born this day in 1965.
The Battle of Khe Sanh
started in Vietnam this day in 1968.
Ken Leung of Lost
was born this day in 1970.
Stevie Wonder's "Superstition"
topped this charts this day in 1973. President Jimmy Carter
pardoned most Americans who'd dodged the Vietnam draft
this day in 1977.
Soul singer Jackie Wilson
died this day in 1984, and
blues pianist-singer Charles Brown
died this day in 1999.
"Independent Women Part I" by Destiny's Child
was No. 1 this day in 2001.
And singer Peggy Lee
died this day in 2002.