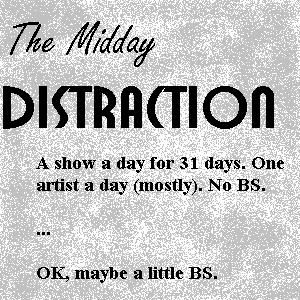 (
Edited to add:
Reposted Jan. 20 without my spoken bits, due to microphone problems.)
The Midday Distraction will be a monthlong experiment: One podcast a day for 31 days, usually with two or at most three songs -- usually just two, but always one artist per show unless a compelling exception presents itself -- starting with three today to allow a little more talk time to explain the concept.
Here's what you'll hear today (
right-click to download or to open in a new tab or window
):
(Total play time 19:23)
All songs provided generously by
Gordon Bell
, who sings with this Alex Harvey tribute band in addition to recording his own solo work and fronting the newly formed trio
Gordon Bell & the Sinking Ships
. Gordon -- who also previously recorded under the alias Gustav Bertha -- has long been a friend and supporter of my podcasting endeavors.
You'll also get a brief "today in history" segment -- played straight -- and an Amazon carousel below to let you pick up items related to births, deaths and historic events on this day in history. If you want the context for these ads, go listen to the show already! :)