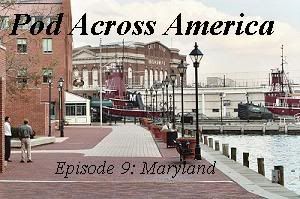 Here's the delayed episode of music from the great state of Maryland.
Here's what you'll hear today (
direct download here
):
Love Riot:
"Maybe She Will" (from the album
Maybe She Will
)
Lin McEwan:
"Now I Know" (
Ariel Publicity
)
Howard Markman:
"Almost Home" (from the album
Half Smiles Blue Skies
)
Steven Charles Cecil:
"Dark Days" (
Podshow
)
Junkyard Saints:
"Scrapple and Rye"
Two If By Sea:
"The Last Time I Went Under" (from
Translations
)
David Byrne:
"Fuzzy Freaky (remix)" (
IODA Promonet
)
The Perfects:
"End of Us"
(Previously featured in Mental Nomad Podcast 112)
Tupac:
"Hit 'Em Up (live)" (Podshow)
Ellen Cherry:
"The Meanest Waltz" (from
The Ellen Cherry Primer
)
Jessica Mellott:
"Beautiful Broken" (Podshow)
Love Riot: "No Regrets" (from the
Killing Time
EP)
(Total play time: 1:05:43)
The IODA-sponsored track may be downloaded below as long as the promotions last. And my deepest thanks go to Lisa Mathews of
Milkshake
, formerly of Love Riot, for leading me to Howard Markman and Junkyard Saints. (Check out my
interview with Lisa and her bandmate Mikel
if you haven't already done so.)
Here's the Wikipedia entry for
scrapple
(read if you dare). If that culinary treat frightens you, check out the tourism pages for
Ocean City, Md.,
and
Baltimore
and see if that settles your nerves.
And if you're ever in Baltimore, enjoy fine Afghani cuisine at
The Helmand
. Try the lamb and beef meatballs, if you're a non-vegetarian -- you won't be disappointed.
David Byrne
"Fuzzy Freaky"
(mp3)
from "The Visible Man"
(Luaka Bop)
Buy at
iTunes Music Store
Buy at
Rhapsody
Buy at
Napster
Stream from
Rhapsody
More On This Album