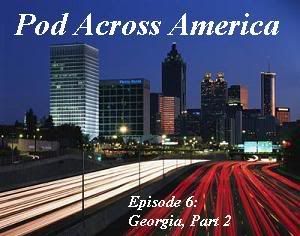 Here's the conclusion of our musical look at Georgia. The next stop, Jan. 15, will be a one-show look at music from Connecticut.
Here's what you'll hear today (
direct download here
):
Chris DeMarco:
"Sail Away" (
Ariel Publicity
)
Emerald Rose:
"Fire in the Head" (
Garageband
)
Golden Boy:
"Je Suis Un Gangster" (
Podshow
)
Courtney Brown:
"Luxor Rising" (Garageband)
Dare Dukes:
"Bakersfield" (Ariel)
AM
feat.
Julianna Raye:
"I'll Be Your Mirror" (Podshow)
Ocean Street:
"Die Another Day" (Podshow)
Last November:
"Seventeen at Three in the Morning" (Ariel)
Azure Ray:
"November" (Podshow)
Exit Clov:
"Violent Berries" (Podshow)
Steve Abercrombie:
"Jumprope Posse" (Garageband)
Wilson Black:
"Wanderin' Blues" (Podshow)
Chris Cortez:
"Georgia on My Mind" (
IODA Promonet
)
Chris DeMarco's track features some kid named Billy Joel playing piano. It's a recording from some time back, so there's no telling whether he ever made in the cruel world of music.
The IODA Promonet-sponsored track -- featuring Chris Cortez, who's worked in Mississippi and New Orleans and now lives in Texas, performing an instrumental rendition on the Georgia state song which takes it in an entirely different direction than you'd expect -- may be downloaded below for as long as the promotion lasts.
Chris Cortez
"Georgia On My Mind"
(mp3)
from "Mum Is The Word"
(Blue Bamboo Music)
Buy at
iTunes Music Store
Buy at
eMusic
Buy at
Rhapsody
Buy at
Amazon MP3
Stream from
Rhapsody
Buy at
Napster
More On This Album