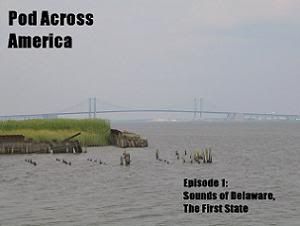 The inaugural episode of Pod Across America (
direct download here
) features music from Delaware, the first state admitted into the Union, as well as facts about The First State -- its size, its people, famous folks from there and more.
Today's music includes:
Twin Ego:
"Flooded" (
Podshow
)
Macabean the Rebel:
"Ravenous Gratification" (Podshow)
Three Legged Fox:
"Soul Thief (live)" (Podshow)
KingRobbie (Robbie King):
"Wanting You" (
Garageband
)
Melissa Cox:
"Goddess" (Podshow)
One Armed Bandits:
"Hopelessly Wandering" (Garageband)
Bullette:
"Little Bird" (Podshow)
Joe Campbell:
"Get a Feel" (Podshow)
The Metrosexuals:
"Magneto" (Podshow)
On Nov. 1, Pod Across America heads into Pennsylvania. (I may have said New Jersey in the episode, but if so, that's a mistake.) Visit the separate
Pod Across America blog
for posts related to Pennsylvania -- musicians from that state, maybe some travel video, and other material in advance of the next show.
The Mental Nomad Podcast resumes next Wednesday, Oct. 22.