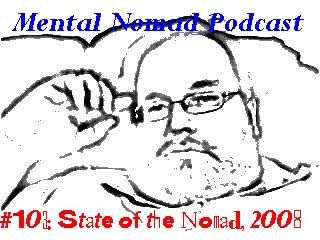 Presenting my annual episode where I tell you about who I am and what I intend from this show. Or at least that's what I'd do if you didn't keep changing the station! (Note: This episode's rated Explicit due to some dialog and sound effects, largely.)
Here's what you'll hear today (
direct download here
):
Mary Shelley Overdrive:
"The Godamn Batman" (from artist site)
Greydon Square:
"15 Billion Year Old Boy" (MySpace)
Sharon Robinson:
"The High Road" (
Podshow
)
Allison Crowe:
"Skeletons and Spirits" (
Jamendo
)
The Black Cats:
"Lonely Avenue" (
Podsafe Audio
)
The Tombstone:
"Fresh Fresh Fresh Fresh" (MySpace)
Etlin Zylin:
"Cirrus" (MySpace)
Not the Sensational Alex Harvey Band:
"Burning Big Louie (demo)" (MySpace)
With samples from a mix of songs that will appear in full in upcoming episodes -- which I'll keep a secret for now -- and some past tracks, listed below:

Daren Sirbough
and
Joshua Kyle:
"Those Who Were" (MySpace, from episode
58
)
Gustav Bertha:
"Next" (special for the show, from episode
66
)
Holland Boys:
"We Become Dust" (MySpace, from episode
26
)
The Perfects:
"Hungry Like the Wolf (remix)" (MySpace, from episode
29
)
Sounds Media:
"Girl Gone Wild" (
IODA
, from episode
80
, may be downloaded below)
Special thanks to Helen Sventitsky and Gustav Bertha for the promos; to The Reverend Doctor for letting me excerpt from
The NTS Show
; to Gena of
Deadly Stealth Frogs
and Leah of
Schmoovenet
for contributing spoken bits; to photographer
Rhett Redelings
(aka the musician
R-Three
) for doing the Gustav Bertha birthday tribute sampled again here; and to Meri, Dennis, Justin, Ned and Anthony for other spoken bits.
(Other sounds pulled from free sound-effects sites in various places online.)
Sounds Media
"Erotica - Spank - Girl Gone Wild"
(mp3)
from "Erotica - Spank! Series - You've Got Tail"
(Sounds Media)
Buy at
iTunes Music Store
Buy at
eMusic
Stream from
Rhapsody
Buy at
Amazon
More On This Album