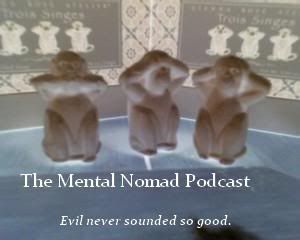 Today's opening track is the Oscar award-winning song from the indie film
Once.
The show also ends with a song from a movie, though sadly not an Oscar winner as I first thought when introducing it. The people in between aren't exactly slacking, either.
Here's what you'll hear today (
direct download here
):
Glen Hansard and Marketa Irglova:
"Falling Slowly"
Kitaro:
"Floating Lotus"
Bettye Lavette:
"Down to Zero"
Jorge Ramirez:
"Tu Cancion"
Sean Hayes:
"Flowering Spade"
Jayme Dawicki:
"Shatter Queen"
Billy Falcon:
"The Rest of the Song"
Gum:
"Try Stopping Me Now"
Jonathan Coulton:
"Famous Blue Raincoat"
The Sky About to Rain:
"Desert Breakdown 1"
Curtis Mayfield:
"Superfly"
Tracks 2, 5, and 11 come courtesy of the IODA Promonet and may be downloaded below. (Well, not Curtis Mayfield -- the promotion ended after I did the episode but before its air date, apparently.) Tracks 9 and 10 come from the artists' Web sites. Track 6 was obtained directly from the artist, who sent me her new CD, and everything else comes courtesy of the
Podsafe Music Network
.
Kitaro
"Floating Lotus"
(mp3)
from "The Definitive Kitaro Collection"
(Domo Records)
Buy at
iTunes Music Store
Buy at
eMusic
Stream from
Rhapsody
Buy at
Amazon
More On This Album
Sean Hayes
"Flowering Spade"
(mp3)
from "IODA SXSW Opening Day Bash Sampler 2008"
(ioda)
Buy at
iTunes Music Store
Buy at
Napster
Stream from
Rhapsody
More On This Album