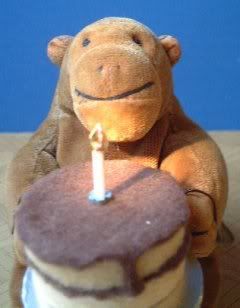 Today's my 34th birthday and the 35th birthday of my godbrother, Stephen. It's also a Wednesday, so here's a new episode.
Here's what you'll hear today (
direct download here
):
Angelique Kidjo
featuring Joss Stone, "Gimme Shelter"
King God
, "Morning Sky"
The Perfects
, "Bittersweet"
Lesley Gore
, "Better Angels"
Bitter:Sweet
, "Salty Air (Fort Knox Five Remix)"
I also rant a bit between songs three and four about a raw deal that The Reverend Doctor, host of
The NTS Show
, recently got at MySpace -- they'd removed his profile. After recording that bit, I saw that it seems
he still has another account
, but who knows for how long, and besides, he lost so many contacts when the original was purged.
(
Update:
Nope, the original account's still dead. What's there is a second account he'd set up after a phisher had hacked the first one.)
Tracks one and four came from the
Podsafe Music Network
. Track five comes courtesy of the
IODA Promonet
. The other two come from the artist's albums.
Bitter:Sweet
"Salty Air"
(mp3)
from "The Remix Game"
(Quango)
Buy at
Rhapsody
Stream from
Rhapsody
Buy at
Napster
More On This Album